About Us
Gbiz.me Mission Statement
"We are the caretakers who mentor, listen, learn, communicate, and guide. We trust our relationships will create opportunities and contribute innovative solutions to worldwide problems. We bring ideas to life to build a better world."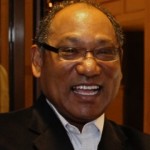 Edward Strickland, Chief Executive Officer
Edward identifies nascent trends and offers strategic insights. He is an entrepreneur that brings innovation to industries. Edward, former IBM Global Entrepreneur (2010 to 2012), is a member of Lawrence Livermore National Laboratory Technology and Market Discovery Committee (LLNL IPO), a joint venture for commercializing inventions from US national laboratories.
His experience at Keiretsu Forum, as angel investor leader who reviewed, evaluated, and performed due diligence for venture investments provides him the experience to navigate strategic product placement transactions. Edward designed and implemented a telecommunications architecture strategy for commercial real estate ventures resulting in a substantial increase in revenues exceeding investor expectations. Edward and his partners operated a commercial office space centers for 14 years. He established Gbiz Inc. dba Gbiz.me business incubator in downtown San Francisco in 2009, a member of the National Business Incubator Association, awarded Honorary Leader in the Book of List – San Francisco Business Times 2014.
Edward attended Stanford University to pursue a Master's in Management Science & Engineering specializing International Security, yet had to forfeit due time and cost; a graduate of  the Senior Executive Program in Strategy and Innovation from MIT Sloan School of Management; has a Bachelors of Science in Behavioral Science from University of San Francisco and a Post Baccalaureate certificate in Information Technology from Golden Gate University; and obtained a Master's of Art in Sports Science from the University of Northern Colorado.
Barbara Strickland, Chief Operating Officer
Barbara has 25 years of experience working with corporate leaders in executing operations strategy. Assisting companies in business development gives her the experience needed for developing a successful executable business plan.
During her 15 years of business management working with HQ (acquired by Regus, ticker RGU:LN), she has become an expert in sales, marketing, technology, and operations. She has prepared due diligence for three acquisitions and worked to integrate successful mergers. She has created and facilitated the terms for office service licensing agreements for more than 2,000 clients. Her experience as a previous franchise owner operator of nine HQ locations is beneficial for negotiating licensing agreements for intellectual property rights and property acquisition.
Her education includes a MBA in Sustainable Enterprise from Dominican University of California and a BA in Telecommunications from Indiana University.